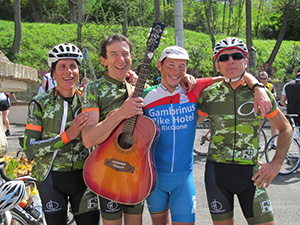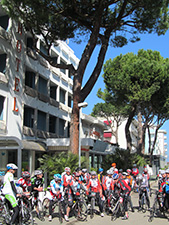 Free services for cyclists and accompanying individuals:

The Abundant Snack, Super Half Board, special dinner with prestigious wine tasting (see bike cuisine).
Every day (except Saturdays), cycle guides at Hotel Gambrinus are ready to accompany guests on carefully studied itineraries designed for different training levels, and to bring them on a journey to discover the extraordinary hilly scenery of our hinterland. The cycle guide service is completely FREE OF CHARGE for our customers (for more information, see: cycle guides and groups and excursions).

The hotel's bicycle depots are also equipped for small maintenance jobs and repairs, and overlook a pretty treed garden surrounded by peace and nature. This truly pleasant location is quite liked by our guests who love lingering about upon their return from excursions and exchanging first impressions on the trips just experienced while their bikes are being put away.

Sports clothing launderette – Our launderette service is particularly efficient and thorough. Sports clothing left after excursions is washed, and delivered ready in the evening, in time for the next day.The Gambrinus Bike Staff is at its best in this case too!

Olympic-size pools and wellness centre – Our clients enjoy free admission to Riccione's marvellous municipal Olympic-size pools (an indoor pool and an outdoor pool in the summer, each 50 m long) and also to all services in a nearby Gym & wellness centre (sauna, Turkish bath, Tecnogym equipment, etc.).

City bikes are also available from the hotel for travelling to the pools and Gym & wellness centr.

Welcome drink and Information – This traditional get-together with cyclists takes place every Saturday from 7:00 pm - 7:30 pm in the Simposio room. Gambrinus cocktails are offered on this occasion and information is provided on the weekly programme, on excursions and on our cycle guides. Before wishing guests well with a final toast, they are provided with detailed route information (maps, altimetry, etc.).

Internet Point and Free WiFi – An internet point with free ADSL connection is always available to guests. After real pedalling, virtual surfing is a must!

The hotel has a unique agreement with a specialised Shop-Store to ensure the best assistance is provided both for any repairs and when particular cycling products are purchased.