Hotel Gambrinus Riccione
let's enjoy together


For over fifty years the Gambrinus, always managed directly by our family, has been famous not only for the very high quality of the cuisine, the enviable position and the particularly warm, cheerful and welcoming environment, for its natural vocation for hosting families with children.
Over time we have designed and prepared with care and attention a whole series of Equipment and Services to meet the daily needs and requirements of younger and older children, and to create many opportunities for fun and stimulation of their creativity and their fantasy. And because the imagination of our little guests (as well as their parents, grandparents, uncles, older brothers and sisters, etc.) can be enriched with so many beautiful emotions: the emotions of a holiday to remember!
Grazia and Luca Nicoletti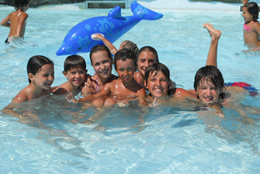 Greta and Erisa , the talented entertainers of the Gambrinus, organize excursions to the amusement theme parks and recreational activities in the hotel (external mini club and Veranda Symposium Room) for our little guests: drawing, painting, group games, always fun and educational activities, guided dances to the notes of children's favorite music, carefully chosen cartoons: nothing is left to chance!
Furthermore, entertainment on the beach, with games and delicious snacks!